This year I was looking to make something different than the usual for appetizers when the crew came for Christmas. I saw this one at the allrecipes.com. I really like this site. I've used a lot of their recipes and usually have good results and this one was no exception.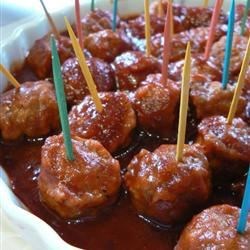 Cocktail Meatballs
Ingredients:
1 lb. lean ground beef
1 egg
2 Tbsp. water
1/2 cup bread crumbs
3 Tbsp. minced onion
1 (8 oz.) can jellied cranberry sauce
3/4 cup chili sauce
1 Tbsp. brown sugar
1 1/2 tsp. lemon juice
Directions:
1. Preheat oven to 350 degrees F (175 degrees C)
2. In a large bowl mix together the ground beef, egg, water, bread crumbs and
minced onion. Roll into small meatballs. They used their small scooper for
consistency in size.
3. Bake in preheated oven for 20-25 minutes, turning once.
4. In a slow cooker or large saucepan over low heat, blend the cranberry sauce,
chili sauce, brown sugar and lemon juice. Add meatballs, and simmer 1 hour
before serving.
The other recipe I used I saw on Joy's Life. She used SeaPak Spring Rolls - I purchased them at Walmart's - and made this dipping sauce for them.
Ingredients:
14 oz. can Jellied Cranberry Sauce
1/8 tsp. Ginger
3 1/4 Tbsp. Dijon Mustard, Whole grain ( I used the smooth)
1 Tbsp. Orange Juice
1 1/2 Tbsp. Brown Sugar
Instructions:
1. Add all ingredients in a bowl.
2. Whisk ingredients until well combined and mostly smooth.
3. Chill for 15-20 minute minutes for flavors to combine.
4. Serve.
I couldn't believe how quickly everything disappeared. These are definitely keepers! Hope everyone survived the snowstorm. We fared pretty well. Only about 6" but it is very cold!! The girls are happy as they don't have school today! Now back to putting all my Christmas decorations away - which is not the fun part!
Thanks for stopping bye,
Nancy, Rachel & Sarah